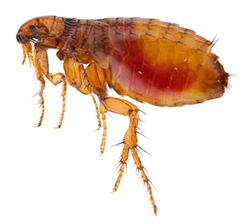 Fleas can be a real problem if not dealt with right away.
The most common flea is the Cat flea
, this is the one that you will find on your dogs and cats. Even though fleas prefer your pets they will quickly spread to your carpets and start biting you within a very short period. With all flea treatments the first step is to get your pet on a flea management program. Next we come in and will be treating not only the interior of your home but the exterior as well. The exterior is important because wild animals such as skunks, opossums and other wild animals can be walking through your yard as fleas are hopping on and off the animal. This may be why you have fleas even if you don't have pets. The interior treatment consists of us spraying all of your carpeted areas throughout the home. In areas such as the kitchen, bathrooms, and uncarpeted floor areas we will be using a non-residual fogger.
DOWNLOADS >> 
Preparation Instructions for Fleas (PDF)
<<
SCHEDULE AN APPOINTMENT CLICK HERE
<<